The Asia Excellence is one of six new LNG carriers that will support Chevron?s growing global LNG business (Credit: Chevron)
US major Chevron has signed a binding LNG sale purchase agreement with ENN LNG Trading Company for the delivery of the fuel to China from its global supply portfolio.
In a statement August 29, the company said the Chinese gas distributor would receive 0.65mn metric tons (mt)/yr of LNG over 10 years, with the first delivery expected to start in 2018 or the first half of 2019.
One of China?s biggest gas distributors, ENN operates in 150 cities across 17 provinces and autonomous regions, with over 12mn residential and 56,000 industrial/commercial customers. ENN?s Zhoushan LNG receiving terminal is being constructed and expected to be in operation by 2018.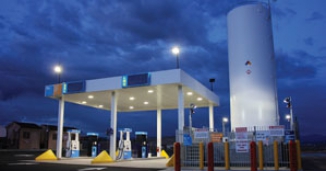 ENN's fuel station (Credit: ENN)
Gas demand growth has been robust in China this year driven by November?s price cut. ENN reported a 17% rise in volumes for the half year that ended on June 30. During the six months, its total natural gas sales volume was 6.48bn m³. Residential gas sales volume increased by a robust 23%. Higher supplies of LNG drove a significant year-on-year volume growth of 95.9% to 1.02bn m³. It  projects a 15% growth in gas sales volume for fiscal year 2016. With the kind of volume growth seen in the first half, the company is likely to beat its own target. 
Shardul Sharma
---
You can now also follow Natural Gas World directly on your phone or tablet via Google Newsstand and Flipboard. Click  or    
  Natural Gas World welcomes all viewpoints. Should you wish to provide an alternative perspective on the above article, please contact editor@naturalgasworld.com Kindly note that for external submissions we only lightly edit content for grammar and do not edit externally contributed content.